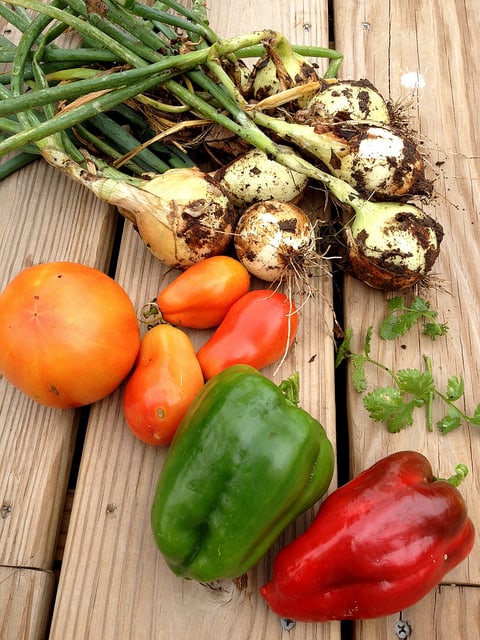 Salsa lovers can enjoy a particularly nutritious and delicious treat by growing all the ingredients for salsa right in their home gardens.
Planting a Salsa Garden: What and When to Plant
1. Tomatoes
Tomatoes are frost-sensitive plants. Start seedlings 6-8 weeks before the frost-free date (which you can learn from your local Cooperative Extension) or buy them from a greenhouse; set them out after the last frost.
Tomatoes thrive in rich soil with plenty of phosphorus. Put a shovelful of compost or aged manure and a handful of bone meal or rock phosphate in each planting hole. Tomatoes love warmth and light. Plant them where they'll get full sun.
You'll have many varieties from which to choose. Keep the following basic categories in mind:
Determinate tomato plants are smaller and easier to support than indeterminate plants. A standard garden store tomato cage will contain one nicely. You can plant them every 2′. They will stop bearing before the growing season ends. Indeterminate tomatoes keep growing until frost kills them. They need a sturdy trellis or very large cage. Space them 3′ apart.
Salsa Tomato Tip:
Paste tomatoes like Roma, Opalka, Hog Heart and San Marzano are very meaty and not very juicy. They may not make the best fresh eating, but they make a thick and satisfying salsa. Slicing tomatoes are juicier and better for eating out of hand. You can add some of these to your paste tomatoes when making salsa. Continue reading…